Daytona Beach International Airport Celebrates Avelo Airlines Inaugural Flight from New Haven, CT
Volusia County Economic Development
June 23, 2023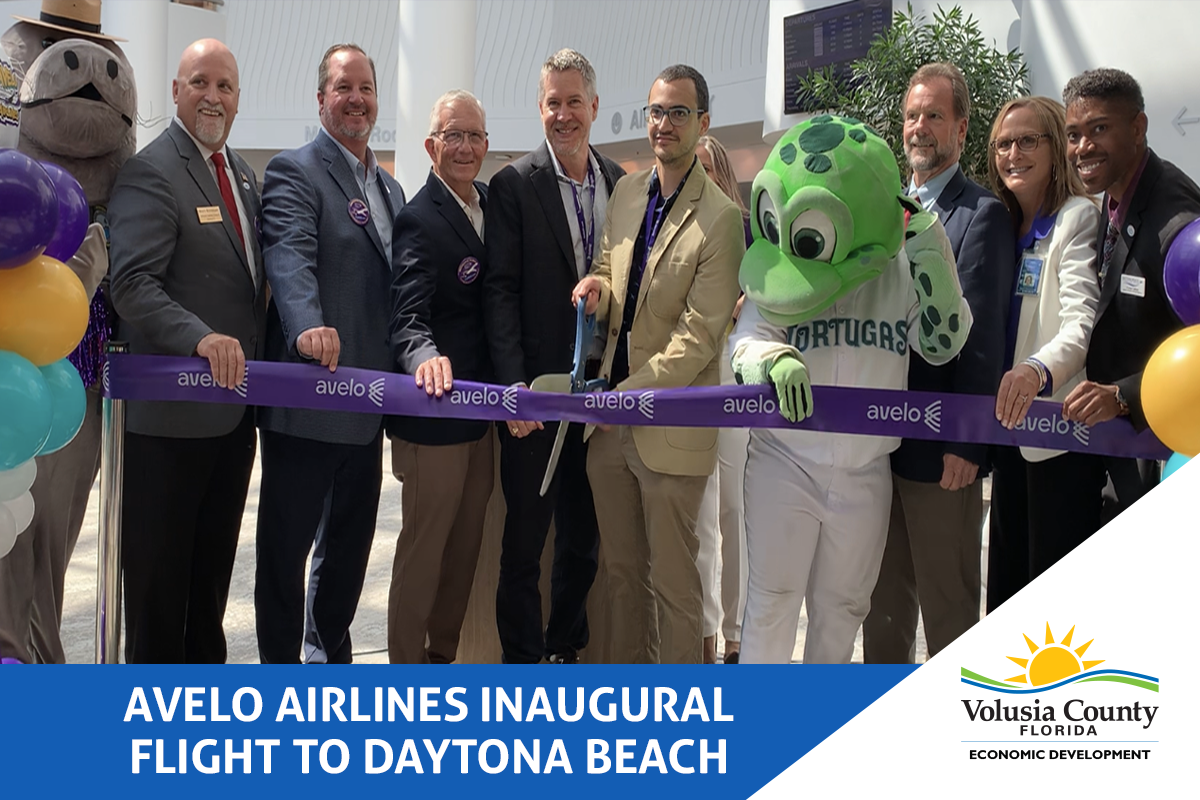 Daytona Beach International Airport (DAB) was a buzz of excitement with the arrival of the inaugural Avelo Airlines flight from Tweed-New Haven Airport (HVN) on June 22. Volusia County Chair Jeff Brower and County Council members Jake Johansson, Matt Reinhart and Troy Kent celebrated the occasion with county and airport staff, airline officials, tourism representatives and residents.
Avelo serves Southern Connecticut at the region's most convenient airport, HVN, and Philadelphia at Wilmington Airport (ILG), providing a convenient and travel-friendly gateway to Philly and the greater Delaware Valley Region. As DAB's first low-fare carrier, Avelo's service ushers in a new era of affordable and convenient air service for Volusia County customers.
Avelo Airlines Chairman and CEO Andrew Levy said, "Daytona Beach – it's officially time to say hello to Avelo! We're excited to begin service to Southern Connecticut and Philadelphia, bringing Avelo's low fares, industry-leading reliability and caring service to Daytona Beach. These routes also offer Connecticut and Philly-area customers easy hometown airport access to everything Daytona has to offer, just in time for summer."
Volusia County Aviation and Economic Resources Director Cyrus Callum said: "Back in April when we announced this new air service, the airport had a $2.1 billion economic impact. I'm happy to announce that a new report done by the Florida Department of Transportation states the airport now has a $3.2 billion economic impact in the community, and those numbers do not account for this new service we have with Avelo."
Callum went on to say: "This is the beginning of great things for Volusia County, the Daytona Beach area and our community. I'm very excited for this partnership with Avelo Airlines."
Daytona Beach International Airport Director Karen Feaster said: "We look forward to welcoming new passengers from New Haven and Wilmington to the Daytona Beach area, and these are also great new destinations for our residents to explore. We are hopeful these two new flights are just the beginning of expanded service options here, and we are looking forward to a great partnership with Avelo."
Avelo will provide twice-weekly nonstop service to New Haven on Thursdays and Sundays. Avelo is the only airline offering nonstop service between Daytona Beach and the greater New England / Metro New York region. Nonstop service to Philadelphia also began June 23 on Mondays and Fridays. Both routes will utilize Boeing Next-Generation 737 aircraft. For more information about Avelo or to book flights, visit www.aveloair.com.